Fashion Possibilities: Tips for Using Necklace
Who said that necklace is only to be used in fashion editorial?
If there is a word that translates what the necklace represents is transformation. This accessory modifies any look – from the most basic to the most sophisticated, from neutral to colorful.
Using the right accessories can be a great way to renew your wardrobe without buying any clothing!
Often, putting on a nice look is to consider the small details. Wearing the dinosaur necklace is a possible fashion for all types of women.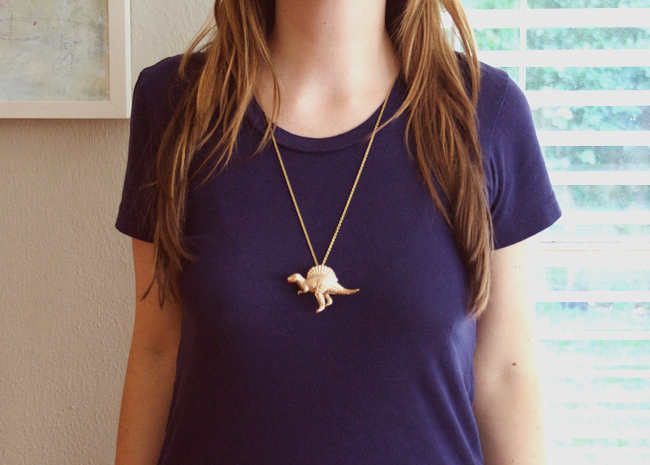 Today's post brings tips for wearing these dinosaur necklaces! Reinvent your style, your way.
Necklace + shirt.

This is one of the favorite ways for women to wear. The necklace leaves the look more elegant, subtracts the basic and serious way of the shirt, but without losing its formality.
This is the perfect match! The more minimal the shirt, the more prominent the collar should be. The highlight can be the combination of color, volume, material (metallic, stones, for example). But make no mistake; a printed shirt can be perfectly matched with a necklace.
You know that shirt you're already tired of wearing? It may gets a new look with the jeans shirt. It gains more life and becomes much more elegant. Whoever chooses the necklace just needs to be cautious about using it in very formal work environments.
Necklace + T-shirt.

The T-shirt is one of the most basic pieces of clothing in any wardrobe. This is a cool way to work the basic visual and make it stand out. Turn any t-shirt into a fashion statement to get out of the common place.
T-shirt is one of the most comfortable pieces of clothing. This is one of the best examples that comfort has nothing to do with carelessness in the visual.