Own the Trend of Mens Fashion Overalls
Let's say you just picked up a brand-new pair of overalls for men – you saw someone on the internet wear them and you said to yourself, "Hmm, those looked cool. I think I want to try out a pair of those." Maybe you haven't even gotten around to buying yourself a pair! In both instances let's say you shared the following problem: you have no idea where, to begin with even creating an outfit for these mens fashion overalls. Fear not, because in this article we are going to discuss some style tips you can start implementing with your outfits that already include an enormous potential for mens fashion overalls.
Also, if you haven't gotten yourself a pair of mens overalls yet, I recommend you check out the fabulous brand Differio at Differio.com. Differio offers a wide range of dungarees, overalls, dungarees, rompers, bodysuits, jumpsuits, and more for men. They are a one-stop shop for anything and everything you've been thinking about on your new quest for overall fashion success.
If you're like me and you've thought very highly of trying out a lavish new romper – then this article has a perfect section for you to begin creating your unique outfit for the coveted male romper. Overalls for men are a fantastic way for you to either simplify or add a profound sense of texture to any outfit. That is because these garments can either be worn as a "one-piece-tell-all" (one article of clothing pretty much sums up your entire outfit) or as a compliment to an already standalone outfit.
Without further ado, let's get into some fashion tips for your new interest or pair of overalls for men:
The Casual and Effective Look for Simple Overalls:
Imagine that your search for a pair of overalls led you to a plain old black or denim dungaree for men. They look nice, you like them, they aren't too loud (meaning they don't have any rips, a lot of pockets, etc.), and they are exactly like what you saw a model wearing… great! Here's how you can begin to perfect a casual and basic look for mens overalls:
Remember, a basic outfit with the addition of overalls will really go a long way. That basic outfit could simply be a hoodie, sweater, or even a basic white t-shirt with some designs, the overalls will merely add another layer of texture and cover your undergarments. Unless you bought a romper or a one-piece the overalls will act as the lower half of your outfit. However, this by itself may be a little bit boring. To spice up the overall outfit we can look to your feet for some help in design. Rolling up the overalls (if their pant-overalls, not short style) will give you the room to maybe add some nice striped tube socks into the mix. Pair these with a popping pair of shoes and you my friend, have just spiced up the overall look to your overalls.
If you bought short overalls, then something sexy for the foot-section that completely works with the appeal and message of overalls is just a nice pair of western style boots (cowboy for any country folk out there reading 😉).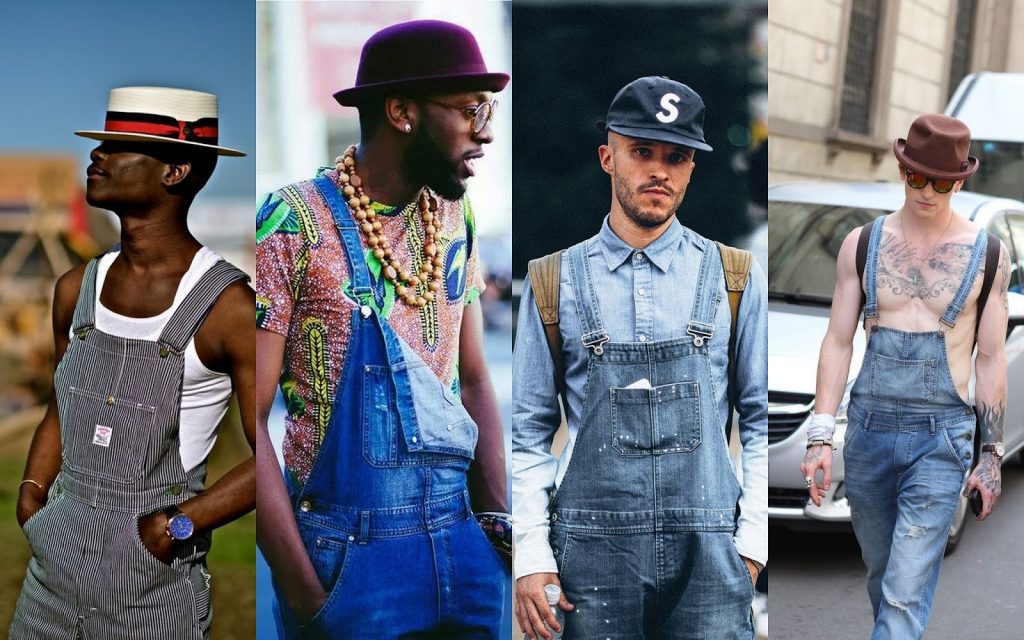 Rock That Romper:
These next few sections talk about the one-piece overalls for men – these include men's onesies, rompers, jumpsuits, and the more active bodysuits. But for this section, we're going over romper. The mens romper, normally being a clothing piece for women, started to make a substantial amount of traction for men in the year 2017 when the internet began to speak out about the new hit male clothing sensation. Despite any criticism, the trend is certainly present and here to stay. If you picked up a romper for men, here are just a few techniques you can learn to really make your romper your own.
Note, one-piece clothing is all about the accessories and shoes. Rompers borrow particularly from an almost coastal or fraternity-style base. This ultimately means that you want your accessories to breath a vibe that says: "I just want an easy-going day, and nothing too crazy." Accessories like some aviator sunglasses, a stylish leather bracelet, a colorful anklet, or even some earrings will go a long way to add to your romper. As far as shoes go, some casual boat shoes or skate shoes will be a perfect fit for the stylistic nature of the romper. It is important to note though, that you do not have to follow these tips – if you have a different vision entirely for the good ole' romper – then feel totally free to explore it! The trend itself is still a baby and men have plenty of time to add their own twist into the mix!
The Active Overall:
If you were digging substantially into the overall trend for men, you may have stumbled upon the categories of jumpsuits and bodysuits. While not appearing like the classic dungaree you're already familiar with, these pieces offer a totally different approach to overall fashion. Both are usually worn as a one-piece garment but provide an excellent source of movability and casual fashion statements.
For instance, the next time you find yourself rolling out of bed on the weekends at 2 pm, you may want to just throw on a nice casual jumpsuit for your quick trip into town and that's it. If you want the jumpsuit to be a more day-to-day outfit you can consider throwing on a nice pair of hi-top sneakers that complement these mens fashion overalls, or just simply utilize the accessory tip for rompers but go for a more athletic approach. Think instead of leather bracelets, string bracelets; instead of aviator sunglasses, some default sunglasses.
As for bodysuits, I bet you didn't think we're going to bring being active and overalls into the same sentence. Bodysuits are by far a very preferable alternative to gym shorts and a t-shirt because they are easier to put on, take off, easier to wash, and provide better coverage no matter how deep your squats go, or how heavy your deadlifts can get. Bodysuits are not really meant to be accessorized as they are usually a workout piece but accessorizing them like they were jumpsuits will work just fine.
Hopefully, this article provided you with a little bit more insight into the trends/statements of overalls for men. Now go grab your new pairs and really make this trend your own!
Remember to check out Differio (Differio.com) for all your overall needs, and more!